Commercial and Residential
At Trident Aquariums we want to take the hassle out of
maintaining your aquarium. With a little feedback from
you, our knowledgeable staff will develop an aquarium service maintenance
plan just for you. If you don't mind scraping a little algae
off the glass occasionally, maybe a monthly visit is all that is
needed. We'll also be happy to pamper you with weekly
visits if your preference is to sit back and enjoy the view.
Our standard services that we offer all our clients are:
Cleaning of tank glass & decorations
Tank top-offs & partial water changes
Water quality testing
Feeding (including specialized feeding for animals with such requirements)
Inspection of equipment (lights, heaters, filters,
etc.)
Filter cartridge/media cleaning or replacement
Livestock inspection & guarantee
Removal & treatment of sick or injured animals
Delivery & installation of equipment
Aquascaping and decorations
Delivery & acclimation of livestock
Specialized Services
Some of our clients require more specialized services beyond
routine maintenance. For those, we offer several service
options. These services may incur additional costs so please
contact your service technician for pricing. Below are some
of the specialized services we offer:
Water changes/Top-off using reverse osmosis water
Expanded water quality testing
System Automation (Top-off, Lighting, Alerts,
Feeding, etc.)
Livestock shipping
Airport pickup & dropoff
Afterhours & weekend services
Seasonal Themes (Valentines, Halloween,
Christmas, etc.)
Breakdown & moving of aquarium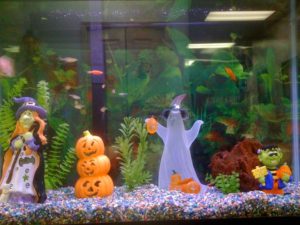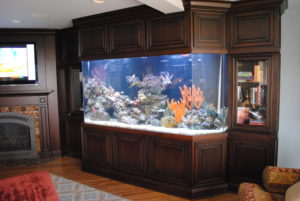 Contact us today to set up an appointment!